How To Style Contact Form 7 In Divi Theme
Contact Form 7 is popular form builder plugin. It has over million active installs.
Contact form 7 provides bare-bones style for a form. It's done by design, as you can customize it as per your website branding.
Pre-requisites
Tools
Computer
Total Duration : 10 minutes
Step 1 - Create a grid layout for the contact form 7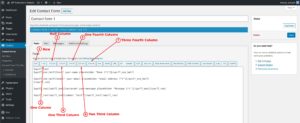 This plugin provides grid elements like row and columns (of different widths) like 1, 1/2, 1/3, 1/4, 2/3 and 3/4

Use the nesting of columns within a row to create a grid layout.
Step 2 - Embed the contact form 7 on a divi page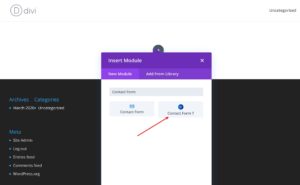 Open a page to edit on divi's visual builder

An a Contact Form 7 divi module on the page.

Select a contact form 7 item from the module settings

Watch the video below
Step 3 - Style contact form 7 using the divi module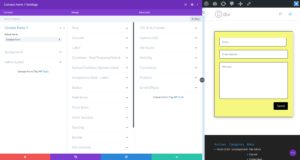 Divi module supports style for

Form wrapper - This element is the main container for the form. It's represented by the .wpcf7 selector

To style padding and margin, goto Design Tab > Spacing
To style background, goto Content Tab > Background
To style border, goto Design Tab > Border
To style box shadow, goto Design Tab > Box Shadow

Row - This element is a row item for the grid layout

To style padding and margin, goto Design Tab > Row

Column - This element is a column item for the grid layout

To style padding and margin, goto Design Tab > Column

Label - This element represents a label used for an input element.

To style padding,margin and font styles, goto Design Tab > Label

Text, textarea and select The form fields are group into one category as they have common styling needs. Goto Design Tab > Common - Text, textarea and select and style

Background
Border & border radius
Font styles
Margin and padding

Radio / Checkbox Options label This represent a label field for the radio/checkbox options list.

To style margin, padding and font styles goto Design Tab > Radio / Checkbox Options label

Acceptance field - Label - This field represent text description of a acceptance checkbox field. A user needs to check this field to indicate he/she has read the description and accept it.

Style the description's margin, padding and font styles by going to Design Tab > Acceptance field

Button - This field represents the submit button for a contact form. Goto Design Tab > Button and style

Alignment
Font Styles
Margin and padding
Box shadow
Background
Border and border radius

Field Error This represent the error shown for a field when the field contains invalid data.

To style margin, padding and font styles goto Design Tab > Field error

Form Error - This error message is shown at the top of the form when an invalid form is submitted.

To style margin, padding, background, border, border radius and font styles goto Design Tab > Form Error

Form Success - This success message is shown at the top of the form when a valid form is submitted.

To style margin, padding, background, border, border radius and font styles goto Design Tab > Form Success